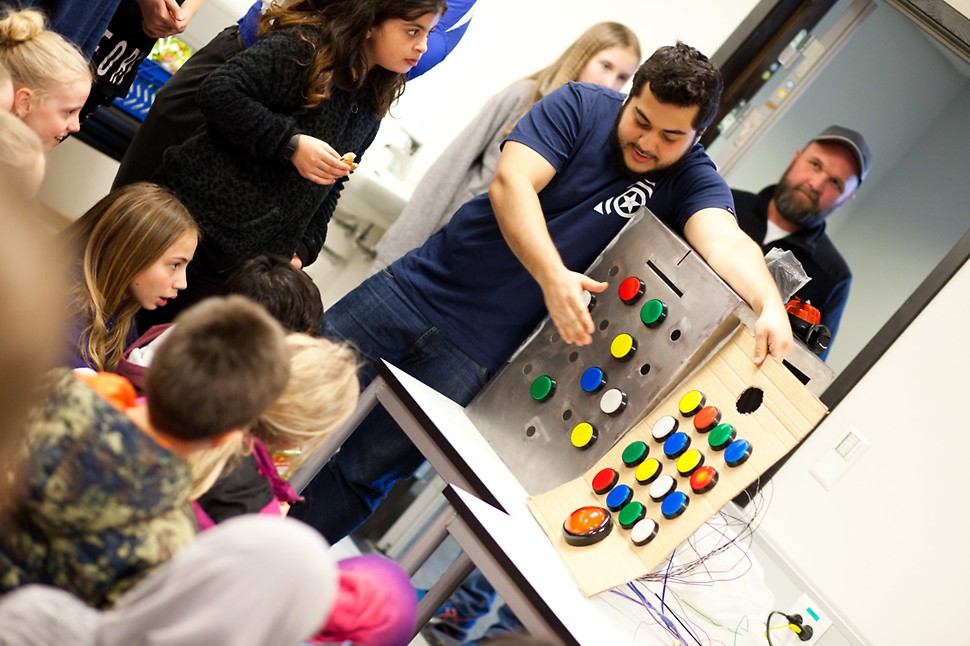 Children's ideas brought to life
(photo from mymachine.no)
Children's ideas come to life
Author: Glencore Nikkelverk | Date: 27/07/2020
In the MyMachine project, children and youth from three different education levels cooperate in building their dream machines. The goal is to promote creativity and to let children be innovative and creative in the idea creation process. University students manage the process from start to finish. But it is the elementary school children that creates and take decisions throughout the project period ultimately realizing their dream machine.
MyMachine brings an innovative look on future education by merging creative and technical disciplines together. Through our collaboration with the University of Agder and MyMachine, we contribute with mentors and support to help realize the ideas created by elementary school children. Through a semester the process goes from idea to finished product which displayed for the public to test and see.
This year the finished products will be displayed in the center of Kristiansand. Different groups are invited to come see the products. Furthermore, the machines will be displayed at the science UiA during "forskningsdagene" (the research days).
This year machines like Robbe has been built. Robbe is a mechanical machine that helps you find things to do when you are bored by spinning a wheel. There has also been built a robot keeper and a massage machine, amongst other machines. For news about the projects and to learn more about MyMachine click here.
MyMachine continues on this fall with a new group of inspired children and youth. Glencore Nikkelverk will continue to contribute with mentoring from our employees. Besides mentoring, we will also continue to contribute with financial support and by sharing our knowledge of project development.